Cylinder Blocks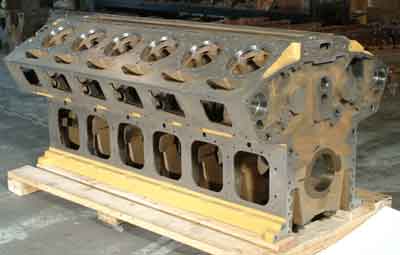 We repair and service all makes and models of industrial grade cylinder blocks, from simple machining to the more complicated repair requirements that include welding heat cracks, ventilation due to rod failure, and restoration of deck height and main bore specifications.
Our services include:
A Comprehensive inspection process which includes chemical vat, cleaning, and magnafluxing for potential heat cracks.
We will determine if the cylinder block can be machined to the tolerances of OEM specs to remain in 'standard' specification.
We have the ability to metal spray deck surfaces and the main bores back to a 'standard' specification.
We can repair cylinder blocks that have been ventilated due to crankshaft/rod failures.
We can repair cracked bolt holes.
We can repair 'egged' lifter holes.
All cylinder blocks are repaired back to original OEM specifications.
We do carry a wide range of inventory for exchange that may aid in reducing your downtime.